Events
The events calendar is your source for campus performances, activities, and more — from New Student Days to Commencement—that make Drexel a unique and exciting community.
Happening Soon at Drexel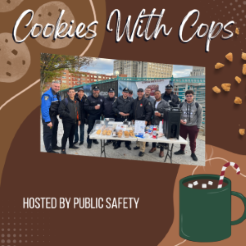 December 12, 2023
12:00 — 2:00 PM
Join Drexel Public Safety for a break from finals and a sweet treat before your winter break begins. This next Cookies With Cop is on Dec. 12, 12 p.m., on Korman Quad. Hope to see you for some cookies, hot chocolate and friendly conversation!

January 9, 2024
2:00 — 3:00 PM
Zoom; please register in Career Pathway to receive the Zoom link
Department Events
Have a Drexel event you want to promote? Public submission forms are available for department events.
Visits & Tours
Whether you're an incoming first-year or transfer student, we offer a variety of options to fit your schedule.